Ironhorse Youth Music is thrilled to join the Greater Helena Gives 2023 campaign. The event kicks off on May 3 at 8:00 pm and concludes 24 hours later on May 4!
We are especially excited this year about two matching challenges from generous donors affiliated with our organization. The first will match your gifts up to $1,000, and the second will match your gifts up to $5,000. That means, at the start of the giving day, your $50 gift is really worth $150! Please help us take advantage of this incredible support of our work.
Please visit our giving page to join the cause; you can also share it with anyone interested in supporting great music by young artists.
https://www.greaterhelenagives.org/organizations/ironhorsemusic
You can also donate right here (starting May 3 at 8:00 pm) with the simple click of this button.
Another way to extend the impact of your donations is to give strategically. Ironhorse would appreciate everyone's help in earning another of these amazing prizes.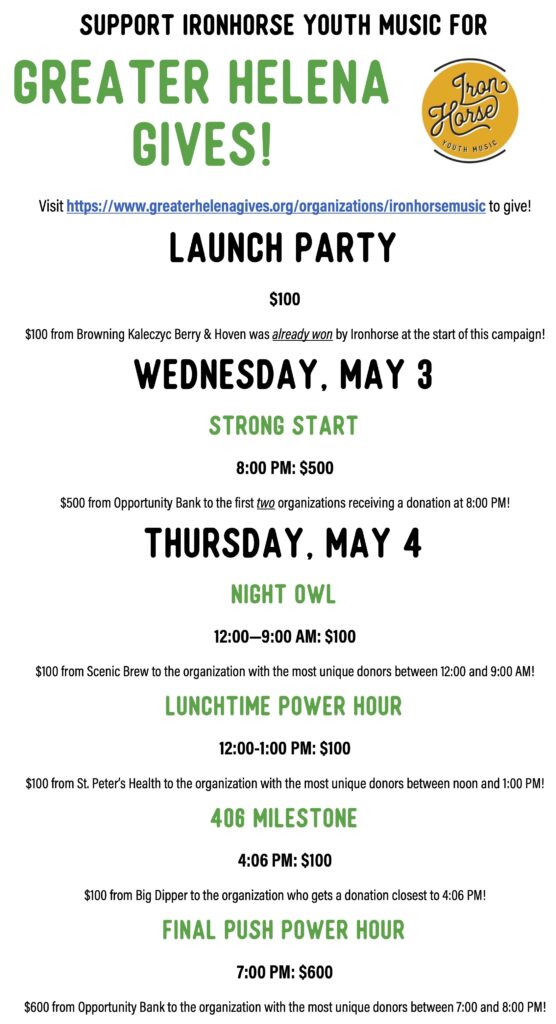 Thank you for your participation in Greater Helena Gives and for your support of the entire Helena community!